The following article is in English (Black) and Portuguese (Grey).
O seguinte artigo encontra-se em Inglês (Preto) e Português (Cinzento).
Moving to a different city is a big step in life, be it for Erasmus or to work abroad. The worst part of it all is of course packing. Some people have more stuff to pack while others not so much, is almost as taking your whole closet with you. Just the thought of having to pack everything into one suitcase can lead to a nervous breakdown because of weight and size policies that most flight companies have. Here are some hacks when it comes to flying and how to make it comfortable.
As someone that has moved two times to two different cities and is lucky enough to travel quite a lot, I picked up some useful tips from a lot of people around me in the same situation.
Emigrar para uma cidade diferente é um grande passo na vida, seja de Erasmus ou trabalhar no estrangeiro. A pior parte de tudo isso é, naturalmente, fazer a mala. Algumas pessoas têm mais coisas, enquanto outras nem tanto, é quase como levar todo armário. Apenas o pensamento de ter que arrumar tudo numa mala pode levar a um colapso nervoso devidos às políticas de peso e tamanho que a maioria das companhias aéreas têm. Aqui estão alguns truques quando se trata de voar e como torná-lo confortável.
Sendo alguém que se mudou duas vezes para duas cidades diferentes e tem a sorte de viajar bastante, recolhi algumas dicas úteis de muitas pessoas à minha volta na mesma situação.
First you should book a flight that travels to your destination through flying search engines (such as Skyscanner, Momondo, …) in incognito mode, this way the prices will not change every time you check it. Before booking, verify the company's luggage policy in which you are choosing to fly, sometimes the cheapest flying companies might not be the best and spending an extra 20€ on another airline might be worth it in the end.
Primeiro, deves reservar um voo que viaje para o teu destino através de motores de pesquisa de voos (como Skyscanner, Momondo, …) no modo de navegação anónima, assim os preços não alteram cada vez que fores procurar de novo. Antes de fazeres a reserva, verifica a política de bagagem da companhia na qual escolhes-te voar, às vezes as companhias aéreas mais baratas podem não ser as melhores e gastar 20 € extras em noutra companhia aérea vale a pena no final.
Packing appropriately considering the amount of clothing you are taking is a strenuous task. Rolling your clothes, as you probably heard or even do, is a great way to save space on your bag. There are several YouTube videos that teach you how to roll your clothes and how to evenly put them in your luggage. Another hack is that the heaviest items, usually sweatshirts/hoodies, jeans, even shoes, should go to a different bag (if you are traveling with one), which is the cabin trolley, as most of the time they don't weight that particular bag. Avoid bringing towels as they are very heavy, you can always go to a supermarket and buy one. If you have more than one coat, bring it with you by hand. Always weight both bags. As a personal handbag use a backpack that can fit most of your personal items such as your computer, tablet, chargers, wallet, necessary documents, and anything else you might want to place there. Have a padlock for each bag, as you never know what might happen to your luggage be it the big one or the small one.
Fazer a mala adequadamente, considerando a quantidade de roupa que estás a levar é uma tarefa árdua. Rolar as roupas, como provavelmente já ouviste falar ou fazes, é uma ótima maneira de economizar espaço na mala. Existem vários vídeos no YouTube que ensinam como enrolar as tuas roupas e colocá-las uniformemente dentro da mala. Outro truque é os itens mais pesados, geralmente Sweatshirts, calças de ganga e até caçado, devem ir para uma mala diferente (se estiveres a viajar com uma), que é o trolley de cabine, pois, na maioria das vezes eles não pesam essa mala. Evita trazer toalhas, pois elas são muito pesadas; podes sempre ir ao supermercado e comprar uma. Se tiveres mais de um casaco, leva-os contigo na mão. Pesa sempre as duas malas. Como mala pessoal, usa uma mochila que possa levar a maioria dos itens pessoais, como computador, tablet, carregadores, carteira, documentos necessários e qualquer outra coisa que queiras colocar lá. Tem um cadeado para cada mala, pois nunca sabes o que pode acontecer com a tua bagagem, seja ela a grande ou a pequena.
When doing check-in, be it online or at the airport, see if you can choose your seat, if so, always try to choose the firsts seat rows in either window or corridor. Personally, I prefer corridor as it gives you extra leg space, you are the first one to leave and you can go to the toilet without bothering anyone. When it comes to the boarding passes always try to download the app of the companies airline and get the mobile version of the boarding pass, this way it saves you times from always searching for your printed ticket. However, always print the boarding pass, as something might happen to your phone and it is always a good idea to have a backup.
Ao fazer o check-in, seja on-line ou no aeroporto, verifica se podes escolher assento; se assim for, tenta sempre escolher as primeiras filas na janela ou no corredor. Pessoalmente, prefiro o corredor, pois oferece espaço extra para as pernas, és o primeiro a sair e podes ir à casa de banho sem incomodar ninguém. Quando se trata dos cartões de embarque, tenta sempre fazer o download do aplicativo da companhia aérea e obter a versão móvel do cartão de embarque, dessa forma, economizas o tempo de procurar sempre o bilhete impresso. No entanto, imprime sempre o cartão de embarque, pois algo pode acontecer com teu telemóvel e é sempre uma boa ideia ter um backup.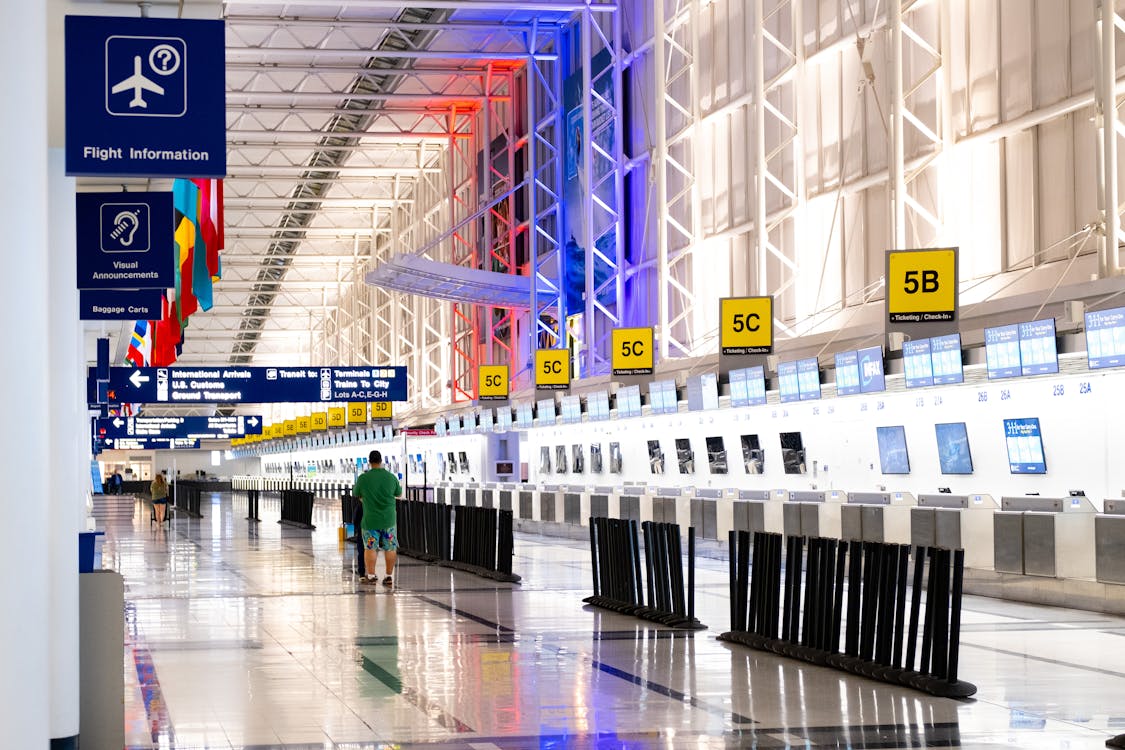 Before flying make sure you have a playlist that you can listen to during your flight, as sometimes they can be quite boring or even download some movies/tv shows to entertain you. Make sure everything is charged, otherwise you cannot use it. Or if you are a bookworm, books are always a good idea. Being a bookworm myself as I do not like to care a lot of weight on my bag, I usually download the books I am reading into my tablet, thus saving space, and making everything more practical.
Antes de voar, verifica se tens uma playlist que possas ouvir durante o voo, pois às vezes o voo pode ser muito aborrecido ou até baixar alguns filmes / séries para te entreteres. Verifica se tudo está carregado, caso contrário serão inúteis. Ou se gostares de ler, os livros são sempre uma boa ideia. Sendo eu também uma leitora, como não gosto de me preocupar muito com o peso na minha mala, costumo fazer download de os livros que estou a ler para o meu tablet, economizando espaço e tornando tudo mais prático.
When going to the airport, always try to be there at least 2h30 before your flight as you need to go the check-in area and drop off your big luggage and in case you might have some problems with your bag, extra time is always necessary and useful.
Ao ir para o aeroporto, tenta sempre estar pelo menos 2h30 antes do voo, pois precisas de ir para a área de check-in e deixar a tua bagagem grande e, caso tenhas algum problema com a tua mala, é sempre necessário um tempo extra.
Security check usually goes very smoothly but have in mind they are very strict in certain items. No liquids above 100 ml and all of them should be inside a small plastic zipper bag, always take your computer/tablet/phone out of your bag and place them in a different tray. Sometimes security will ask you to take your shoes off, so before going through the scanner be sure to ask the officer if it is necessary or if you are clear to pass.
A segurança geralmente sucede muito bem, mas lembra-te de que são muito rigorosos em determinados itens. Nenhum líquido deve ser acima de 100 ml e todos eles devem estar dentro de um pequeno saco plástico com fecho; tira sempre o computador / tablet / telemóvel da mala e coloca-os num tabuleiro diferente. Às vezes, o segurança solicita que tires o calçado; portanto, antes de passar pelo scanner, pergunta ao agente se é necessário ou se podes passar.
Afterwards locate a panel with departures time and check if your flight has a boarding gate assigned, if not, sit and relax or do whatever you feel like doing. However, check the panels frequently as to not miss the gate as it might be far away from where you are, and you may have to walk for a while.
De seguida, encontra um painel com horário de partida e verifica se o voo já tem um portão de embarque designado; caso contrário, senta-te e relaxa ou faz o que te apetecer. No entanto, verifica os painéis com frequência para não perderes o portão, pois pode estar longe de onde estás, e talvez precises de andar um pouco.
When you arrive to your gate, my advice is to always sit until the ground agents call to embark the aircraft. Being in line for 30 minutes or more is not very pleasant, might as well be seated and wait peacefully. Always be alert of your surroundings sometimes the gate might change, or the flight might even be late, so always be aware of what is happening. So, if you are fond of listening to music, listen with just one earphone or with the sound low enough to hear what is happening.
Quando chegares ao portão, o meu conselho é ficar sempre sentado até que os agentes de terra chamem para embarcar no avião. Ficar na fila 30 minutos ou mais não é muito agradável, podes estar sentado e esperar relaxado. Está sempre em alerta ao teu redor, às vezes o portão pode mudar ou o voo pode até atrasar-se, portanto, está sempre ciente do que está a acontecer. Portanto, se gostas de ouvir música, ouve com apenas um fone no ouvido ou com o som baixo o suficiente para ouvir o que está a acontecer.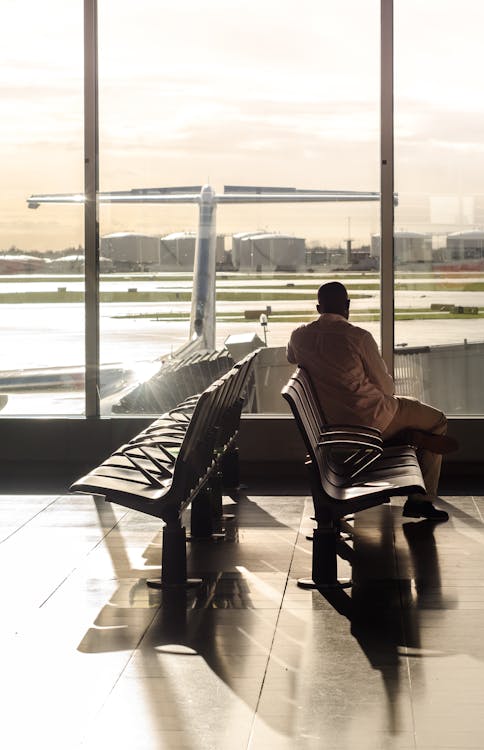 Another thing I advise is when the ground agent is asking who wants to put their trolley in the aircraft hold, volunteer. This way you get rid of your trolley when entering the plane and not thus not having to worry on where to put it, and seeing as you have to wait for the big luggage might as well wait for this one too.
Outra coisa que aconselho é, quando o agente de terra pergunta quem quer colocar a mala de mão no porão, voluntaria-te. Dessa forma, livraste do trolley ao entrar no avião e, portanto, não precisas de te preocupar onde colocar e, visto que precisas esperar pela grande mala, mais vale também esperar por essa.
After entering the plane find your seat and hope that the flight is not completely booked! You might be lucky and have no one next to you. Another advice is when the cabin crew closes the aircraft doors start to check if you can find empty rows of seats and move there, that way your flight will be way more comfortable and enjoyable.
And then your flight takes off, you can sleep, listen to music, watch a series, or even read.
Depois de entrar no avião, encontra seu lugar e espera que o voo não esteja completamente cheio! Podes ter sorte e não ter ninguém ao teu lado. Outro conselho, é quando os assistentes de bordo fecharem as portas do avião começa a averiguar se encontras filas vazias de assentos e muda para lá, para que o teu voo seja muito mais confortável e agradável.
O voo descola podes dormir, ouvir música, assistir a uma série ou até ler
When landing, always follow the instructions of the cabin crew and even when the plane parks don't get up right away as you will wait sometime until the door opens, so might as well be comfortable in your chair. When the doors do open then you get up, leave the plane and then move to the baggage belt to get your luggage, check if everything is ok with your bags and if everything seems fine just follow the exit signs.
Ao aterrar, segue sempre as instruções da tripulação e mesmo quando o avião estacionar não te levantes imediatamente, pois esperarás algum tempo até que a porta se abra, deste modo ficas confortável na cadeira. Quando as portas se abrirem, levanta-te, sai do avião e vai para o tapete de bagagem para apanhar as malas, verifica se está tudo bem com as tuas malas e logo basta seguir as indicações de saída.
Afterwards, you decide how to get your destination. Some airports have their own transportation, most have public transportation and then of course taxi drivers and some cities have uber/bolt/cabify.
Depois, decides como chegar ao teu destino. Alguns aeroportos têm transporte próprio, a maioria possui transporte público, taxistas e algumas cidades têm Uber / Bolt / Cabify.